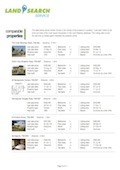 This 15 page Report provided by Landmark Analytics is one of the UK's most accurate and responsive automated valuation solutions. Landmark Analytics draws upon data from a variety of sources, including Registers of Scotland, Surveyors and Estate Agents, as well as incorporating census data, and other government data sets to produce highly accurate valuations - even in remote areas of the country.
Now incorporating more data than ever before, the model is created alongside lenders and surveyors to be tailored to the industry's needs. Approved by leading ratings agencies, Fitch Ratings and Standard & Poor's. The report is available for residential properties only.
This report is provided for information purposes only. You are advised to seek independent advice when buying or selling a property.