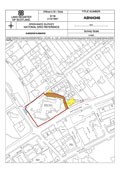 The Title Plan shows the general extent of the property by red edging or other colouring. Scottish Title Plans are prep  ared on the Ordnance Survey map and include the Ordnance Survey grid references, orientation, outline of the surr  ounding properties, survey scale and the date when the title plan was produced.
The title plan may contain various colour markings, which are explained in the title register. These markings may refer to various burdens or right affecting the property.
Please note that Land Register of Scotland became operational between 1981 (Renfrewshire) and 2003 (Sutherland). Properties that have not been sold since the operational date of the particular county may not be registered in the Land Register. These properties remain registered in the old Sasine Register, which does not contain title plans. For the list of the operational dates please visit our FAQ.