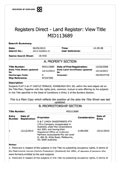 The Title Register is one of the main documents of title in the modern Land Register. It consists of four sections:
A. PROPERTY SECTION
This section includes the description of the property, its title number, the date of first registration, the area of the land where it is greater than 0.5 hectare, the date of the last entry in the title sheet.
B. PROPRIETORSHIP SECTION
This section provides information about the current owner(s) name and address. It contains the consideration (price paid) and the date of entry.
C. SECURITIES SECTION (CHARGES SECTION)
This section contains a list and short extracts of any existing charge against the property and the date of the registration. Existing mortgages are listed here.
D. BURDENS SECTION
Any burdens affecting the property. This section may contain extracts from deeds and references to title plan colourings.
If the property that you search for is not registered in the Land Register we will provide you with an extract from the Sasine Register or Applications Register; the search fee is not refundable.