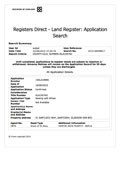 The Applications record provides details of all pending applications against a title number that have not yet been completed. These include first registrations, dispositions, dealing with securities etc.
The Applications record may contain relevant information about the submitted application such as the date and status of the application, consideration paid, title numbers, applicant name and address, property address, deed type and additional information.
If there is no entry in Applications Register the record will confirm that there is no pending application against the title ('No Search Results found'). Until completed, applications to register deeds are subject to rejection or withdrawal.