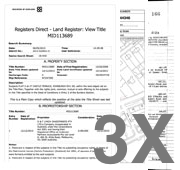 This search includes all available Title documents for 3 properties kept at Registers of Scotland. These are the title register and plan (in case of the property is registered) and the Sasine Register Search Sheets. You will receive extracts from the Sasine register, which contains pre-registration records of transactions affecting property and land in Scotland. These records are called Search Sheets and usually available electronically back to 1905.
If the property has not been registered in the modern Land Register and the title register and plan are not available we will send the first disposition deed recorded in the Sasine search sheet. This usually contains a plan of the property.

The Pack can assist you when dealing with Boundary disputes as they can often easily be resolved by referring to the agreements which would usually be expressed in the documents that we provide to you with this search. If you think that the boundaries are not defined in the title documents, or that the boundaries have been changed by subsequent agreements, you may wish to seek legal advice from a solicitor or conveyancer.